About Creative Colors International, Inc.
Get to Know Our Leather & Vinyl Restoration Professionals
Experts in Leather Repair, Creative Colors International, Inc. was founded in July, 1991 through its affiliate J & J's Creative Colors, Inc., a company that had been in business since 1980.
Much like J & J's Creative Colors, Inc., we provide the services of restoring, dyeing, and repairing many types of material such as:
Leather
Plastics
Vinyl
Fabric
Fiberglass
Our car leather repair experts are extremely knowledgeable and friendly. We know how to work quickly to restore your vehicles, furniture, or other items and make them look like new.
Creative Colors International, Inc. is proud to be a member of:
IFA: International Franchise Association
FMCA: Family Motor Coach Association
RVIA: Recreational Vehicle Industry Association
NBAA: National Business Aviation Association
We work on all types of leather:
Full Pigmented Leather
Nubuck Leather
Aniline Leather
Simulated Leather
Semi-Aniline Leather
Top Grain Leather
In addition to our reputable car upholstery repair services, we also provide tips on how to maintain your vehicle to ensure that it stays in pristine condition for as long as possible.
When you work with Creative Colors International, Inc., a family atmosphere is instilled in each franchise. We work hard to inspire our franchisees to convey the same amount of family-friendly customer service and reliable workmanship that we offer.
We are proud to have franchise locations in almost every state and we will continue to add new franchises every year. Our continued growth is all thanks to our ability to deliver quality workmanship and spectacular customer service that customers can recognize and appreciate our Experts in Leather Repair.
Featured Stories, Testimonials,
and In-Depth Interviews Click Here To Download Our E-Book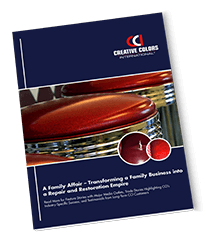 Contact us at (855) 936-3464 to learn more about our team and what we can do for you!