Repairing Bonded Leather
Helpful Advice from Experienced Leather Furniture Repair Specialists
View Our WorkIf your Bonded leather furniture is peeling, cracking, or showing signs of wear and tear after just a few years, it's actually not uncommon. Unfortunately, most Bonded leather furniture on the market is not repairable. While many customers love the idea of recycled leather that's more affordable, there isn't much anyone can do to salvage these products once they start to wear down.
What Is Bonded Leather and Why does Leather Crack?
Bonded leather products are an environmentally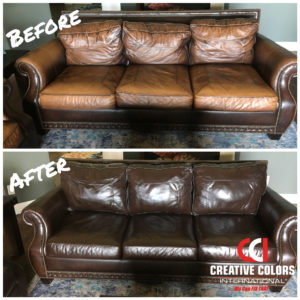 friendly way to recycle leather. These products are made up of scraps of leather that are joined to create the base of the material, which is then bonded with a strong adhesive and fabric backing. The polyurethane overlay that seals the surface provides the legitimate appearance even though genuine leather only makes up 17% of the product. This is why these products are significantly cheaper than those that are 100% genuine leather and why they're so popular among consumers.
Does Bonded Leather Peel?
Not only is the value of bonded leather reflected in the cost of the product, but it will also show in durability. This short-lived material cannot withstand the wear and tear that genuine leather can, especially as a highly used furniture piece. Bonded leather's non-elastic fabric and adhesive glues do not hold up well over time, so once the product is stretched to its capacity, strips of polyurethane and leather peel away from the backing, leaving you with an unrepairable mess.
What We Can Do for Bonded Leather Furniture Repair?
We can perform leather couch repairs on bonded leather if it's caught early and starts in a small area, but if severe peeling or cracking is affecting the entire couch, it cannot be repaired. Keep in mind that this type of upholstery only lasts for a few years and if the leather-like coating is completely gone, the product is most likely beyond fixing.
How Do I Preserve My Bonded Leather Sofa?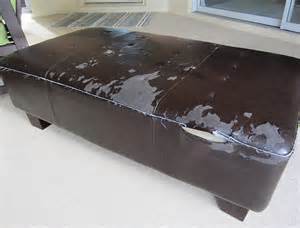 We understand that many consumers aren't aware of the disadvantages of bonded leather products or peeling faux leather. Fortunately, we can help you maintain the bonded leather products that you already own
Some ways to preserve your bonded leather sofa include:
Position bonded leather sofas away from direct sunlight, windows, and skylights.
Perform regular cleaning and conditioning of your furniture. We can also perform these services for you for a convenient price.
Blot spills up with a soft, dry cloth or paper towel as soon as they occur. Do not attempt to rub stains or spills out. This can result in rapid wear and tear.
Apply leather conditioner to a soft cloth for use with bonded leather products. We can help you choose a reliable product that doesn't damage your leather.
Keep bonded leather products at least one foot away from heat sources like heating vents or radiators.
Avoid using oils, polish, abrasives, detergents, or solvents to clean bonded leather.
Don't use saddle soaps to condition bonded leather. They can damage or discolor your product.
Honest Advice That Saves You Time & Money
Rather than dumping money into constant repairs every few years, Creative Colors International, Inc. recommends that you replace your bonded leather furniture with a more durable alternative that can save you time and hundreds of dollars in the long run. Bonded leather is one of the only materials on the market that can almost never be salvaged.
You can count on our leather repair professionals to never try to sell you a service you don't need. Our customers trust our ability to give honest advice and services at honest rates.
Dial(800) 933-2656 to contact us with any questions you have about your current bonded leather products or the material in general.
Service Offerings may vary by market. Check with your local CCI location for further information.