Committed to Your Franchise Goals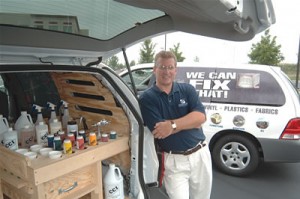 Our executives and corporate staff maintain our corporate objectives and provide opportunities for valuable input from the franchise owners we serve.
Creative Colors International's upper management team has a combined knowledge well over 80 years in this industry and all have either owned or worked in a franchise. With this expertise, they are committed to improve our systems and support franchise owners in the growth of their business. The team is built on a foundation of relationships and friendships that stress the importance of helping each other develop. Like most families, we believe in supporting each other.
Just because you own a franchise, doesn't mean that the franchisor makes every decision for you! Creative Colors International encourages franchise participation and input through a variety of forums. You have many opportunities to interact with management and offer your input.
The CCI Franchise Advisory Council represents franchisees by region and seeks the input of Creative Colors International franchise owners from around the country. The Franchise Council meets twice annually to evaluate, recommend and potentially implement initiatives in the areas of Technical/Production; Products; Marketing; Management; Safety; Customer Service and Franchise Support.
Based upon the simple philosophy, "Good for you - Good for us," the CCI Advisory Franchise Council provides individual owners with a voice as to the priorities and direction of Creative Colors International. In addition to representing franchise owners, Council members are active in the CCI Marketing Fund along with National and Regional meetings and participate in the development of new programs to enhance the brand.
Creative Colors International uses a variety of mediums - both traditional and high tech - to communicate news, operational information and other valuable business insights. Telephones, computers, magazines, faxes, a face-to-face handshake...no matter how it's accomplished, there is no substitute for good communication. Here is just a little information about how Creative Colors International communicates with its franchise owners.
Technical Support
Creative Colors International provides around-the-clock telephone support seven days a week, fifty-two weeks a year. Wherever you are, whatever problem has surfaced, our technical support group is there to help you sort out the difficulty, devise a solution, and please your customer. If you have a telephone, you have support, including a dedicated toll free number good anywhere in North America.
CCI Intranet
The CCI Intranet is a password-protected intranet website providing the most current news and information from Creative Colors International. You'll be the first to know about the growing list of clients in our National Accounts program and the latest marketing materials. Up-to-date technical tips and product updates are prominently featured; creative solutions to home office and operational issues are also highlighted. Each Friday, Creative Colors International Franchisees look forward to the Friday Furniture Facts, a composition of the week's news around the office as well as in the field. On a daily basis, the Creative Colors International Bulletin Board is an interactive communications tool where franchisees lend their support and expertise to a wide array of issues posted by other franchisees.
Regional Meetings/Annual Convention
Regional meetings are held at various locales throughout the country during the year. These hands-on sessions provide a forum for the exchange of ideas and experiences with Home Office staff members and fellow franchisees. They can see first-hand the latest innovations in tools, products, procedures, marketing, and operations. These meetings provide a great opportunity for networking and solving common problems.
Each year Creative Colors International holds a convention which combines all the benefits of the regional meetings with good fun, a vendors' showcase, and a dynamic assortment of speakers.
Request Free Franchise Information!

Why Choose Us?
Discover why this unique, mobile repair and restoration leather repair franchise business is the industry leader. The Creative Colors International vinyl and leather repair franchise has been designed for entrepreneurs who want to enjoy the rewards of their efforts.
Download a Franchise Kit