Veteran FreshStart Program
Creative Colors International & USA Cares Partnership – Hiring Opportunity for Veterans - FreshStart Program

Greetings Veteran, Creative Colors International (CCI) is working together with USA Cares to help serve Honorably Discharged Veterans by Fresh Start Program to gain employment in our successful company.
---
Introduction
According to the Bureau of Labor Statistics, there are currently more than 130,000 unemployed post 9/11 veterans across the U.S. To assist these veterans in developing job skills and finding rewarding careers in a lucrative field, Creative Colors International (CCI) – the industry leader in on-site repair and restoration in the automotive, commercial and furniture industries – has announced the launch of its "Create A Fresh Start" veteran employment campaign.
In collaboration with USA Cares – a charity that provides financial and advocacy assistance to post 9/11 active duty U.S. military service personnel, veterans and their families – the "Create a Fresh Start" campaign aims to provide honorably discharged military veterans and their spouses the opportunity to become Certified Service Technicians at CCI locations across the country and to also award one qualified veteran a free franchise.
Part I
Now through Friday, January 2, 2015, CCI and USA Cares encourage veterans and their spouses nationwide to apply to become full-time CCI technicians. Qualified applicants will be flown to Chicago to complete a two-week training program at CCI's headquarters in Mokena, IL where they will learn the key tasks and responsibilities of a Certified Technician. Following training, all newly certified technicians can start the New Year off with a fresh start by joining forces with successful franchise owners across the country. With an average annual salary over six figures, local veterans will have the opportunity to start a lucrative career in the automotive repair & maintenance industry, which is expected to surpass $54 billion by 2017.
Apply Here for the Job Opportunity Now!! Check out the Testimonial Videos
Certified Technician Training Program
During CCI's Certified Technician Program, veterans will learn the key tasks and responsibilities of a technician, including how to repair, restore and recolor tears, burns, rips and cuts in all types of leather, vinyl, fabric and plastic materials that can be found in the automotive, commercial, marine and furniture markets. CCI technicians are responsible for providing these services on a mobile basis while developing and maintaining customer accounts, preparing customer invoices and providing weekly reports to the company, as well as distributing marketing literature and explaining the value of CCI's services/products to customers. For veterans who attend training and are interested in becoming technicians, if there are no existing franchises nearby, USA Cares will help relocate the veterans to the nearest CCI franchise. For a list of regions where CCI is currently located, click here.
Rules
The RSVP deadline to sign up for CCI's "Create a Fresh Start" campaign is Friday, January 2, 2015. The campaign is open to honorably discharged, post 9/11 military veterans and their spouses nationwide. While USA Cares will provide travel expenses for the veterans to attend the two-week training, all applicants will be responsible for covering their own lodging, food and any other miscellaneous costs during training.
---
About CCI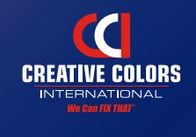 Creative Colors International is recognized as a leader in the repair, reconditioning and color restoration of leather, vinyl, fabric, plastics and carpeting in the automotive, furniture, commercial, and residential markets.
Creative Colors International offers a wide variety of services in various commercial and residential markets. They can restore damaged items to like-new condition while providing customers with significant cost savings versus replacement. They can repair holes, cuts, tears, burns, scraps, fading or discoloration. Their warranty covers the quality of their craftsmanship.
---
How Can We Help?

USA Cares' Job Assistance Program is offering to cover the cost of the Veteran's travel, once selected by CCI, to enable the completion of the required training.
Requirements for Grant Assistance:
Must Complete Application Online
Post 9/11 Veteran
Honorably Served (DD214 required)
Verification of Training Date with Creative Colors International (CCI)
Request Free Franchise Information!

Why Choose Us?
Discover why this unique, mobile repair and restoration leather repair franchise business is the industry leader. The Creative Colors International vinyl and leather repair franchise has been designed for entrepreneurs who want to enjoy the rewards of their efforts.
Download a Franchise Kit