Leather re-dyeing is a big decision. Depending on the size of your project, you may want to enlist a professional — here's how to decide.
Leather furniture adds a touch of luxury and sophistication to any space. But over time, frequent use can cause even the finest leather to lose its luster. Direct exposure to sunlight is the top cause of fading leather. The sun's ultraviolet rays can bleach the pigment in the leather, causing it to fade or wear unevenly. Proximity to a fireplace or furnace can also cause fading. To limit fading, avoid placing your furniture next to a heat source and rotate it regularly to minimize sunlight exposure.
If you've noticed that the color of your leather furniture has faded, you might be considering re-dyeing. It's a significant decision that can either breathe new life into your furniture or, if done incorrectly, cause irreversible damage. Creative Colors International is the leader in leather repair and restoration. Our mobile technicians can come to your home or business to fix rips, tears, scratches, burns, and fading. We have 150+ mobile vans providing repair and restoration services across the country, and we stay abreast of the latest techniques and products to ensure you get high-quality service.
"We just had two leather chairs restored. We had left them in front of a window for 10 years, and the chairs had bleached out to nearly white in some places," said Cynthia Hammond. "The process was really easy. CCI came to our home, arriving on time, and they promptly went to work, moving the chairs to the garage where they did all the restoration work."
As you consider your options, here are three things we think you need to know about leather restoration.
1. Leather Re-Dyeing Basics
Leather dye is a pigmented solution that penetrates the leather's surface, changing its color. You can either restore the original color of your furniture or opt for a completely new hue. However, it's crucial to understand that leather couch repair and re-dyeing are not as simple as applying a coat of paint. The leather needs to be cleaned and prepared meticulously to ensure the dye adheres properly. Our service technicians have the tools and training required to get the job done. We also take an environmentally sustainable approach by using water-based products and dyes with less odor.
2. DIY or Professional Help: Making the Choice
You might be tempted to take this on as a DIY project, especially with numerous leather dye kits available on the market. While these kits can be effective for small touch-ups, they may not provide the professional finish you desire for an entire piece of furniture. Moreover, dyeing leather requires a certain level of skill and expertise. A single mistake can result in uneven coloring or even damage to the leather.
3. The Possibility of Multiple Dyeing
Yes, leather that's already dyed can be re-dyed. In fact, high-quality leather furniture often undergoes multiple dyeing processes during its lifetime. However, each dyeing process can affect the leather's texture and durability. Our professionals can evaluate how your furniture will react to re-dyeing.
Why CCI Stands Out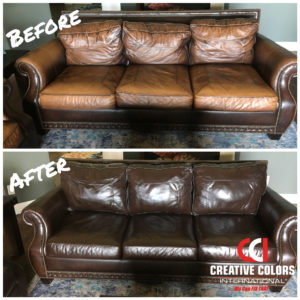 If you're leaning toward hiring a professional, CCI is a name you can trust. With more than four decades of experience in leather and vinyl restoration, CCI offers unparalleled expertise in re-dyeing. Our technicians undergo rigorous training to ensure that every project meets the highest standards of quality.
What sets CCI apart is not just our expertise but also our approach to customer service. We understand that your furniture is an investment and strive to treat it with the care it deserves. CCI offers the convenience of mobile services. We can perform the re-dyeing process at your location, minimizing disruption to your daily life.
Furniture re-dyeing is a significant decision that can transform the look of your furniture. Whether you're looking to restore the original color or opt for something entirely new, you need to approach the process with the knowledge and preparation it requires. While DIY kits may seem like a quick fix, they often fall short of delivering professional results. Entrusting your furniture to experts ensures that you'll receive a finish that not only looks great but also stands the test of time.
Request a Fast, Free Quote
CCI's locations are locally owned and operated. We work hard to inspire our franchisees to convey family-friendly customer service and reliable workmanship. Request a quote to learn more about re-dyeing leather furniture.