Top 5 reasons to buy a repair and restoration franchise
Creative Colors International Inc. is encouraging entrepreneurs to consider buying a repair and restoration franchise in 2020 to jumpstart earnings and improve their quality of life.
The deadline for setting New Year's resolutions is here. Every year, Make Up Your Mind Day is celebrated on December 31. It marks the time when people stop debating future goals and start solidifying plans. As the volatile stock market sparks concern of a potential economic downturn, it's time to start securing your financial future with a proven business model offering a solid track record of family values. Family businesses outperformed corporations during past recessions, according to The Conference Board, an economic think tank. Unlike their corporate counterparts, family businesses continued to launch new products during recessions, maintained advertising spending and placed an emphasis on corporate social responsibility.
CCI is the leader in mobile leather and vinyl repair. The 39-year-old company works hard to make sure a family atmosphere is instilled in each franchise, and a nationwide team of certified technicians provides customers with seamless repairs. The Mokena, Illinois-based company can repair or restore tears, burns, cuts, scratches, stains, fading and color restoration, seam slippage, and provide replacement parts. CCI saves customers time and money by repairing everyday wear and tear to extend the life of furniture and upholstery in cars, planes, boats, offices and more.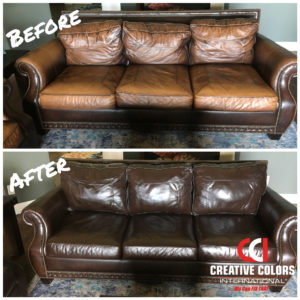 If you still need to "Make Up Your Mind", here are the top five reasons to make 2020 the year you open a franchise in the repair and restoration industry.
1. Low overhead and start-up costs
CCI offers franchisees a proven business model with a low initial investment. The start-up program includes an equipment package, and each van comes with all the tools and supplies needed to hit the ground running. Operating a home-based business saves the costs and time of renting office space or stocking a storefront. Mobile businesses also build strong customer relationships because they offer repairs on-site, solving problems and building trust.
2. Build your own schedule
CCI franchisees have the ability to create their own schedules in an exclusive and protected territory. CCI helps franchisees establish their client base. Workplace stress contributes to at least 120,000 deaths each year, according to research from the Harvard Business School. Having the flexibility to make time for important family events can help reduce stress levels and increase job satisfaction.
3. Unlimited earnings potential
In addition to being able to develop a schedule that will work for your family, CCI's business model is designed to offer franchisees unlimited earnings potential. The more customers you serve, the more money you earn. Motivated entrepreneurs can generate immediate income and expand their business over a wide variety of industries, including home furniture, automotive, planes, boats and RVs. Many franchisees also service doctor's offices and restaurants.
4. Talented support system to help grow business
New CCI franchisees receive four weeks of initial training to learn the tricks of the trade and to practice the proprietary restoration techniques taught by the company. CCI offers 24-hour online support and a telephone helpline to answer on-the-job questions. CCI also holds an annual conference where franchisees and technicians meet to discuss best practices and new strategies to keep their business operating at peak performance.
5. Challenge creativity and innovation
Every day is different in the mobile repair business. Each customer offers a new challenge, requiring franchisees and technicians to be creative to deliver superior service satisfaction.
If you've made up your mind to make a change in 2020 and purchase a repair and restoration franchise, visit www.creativecolorsintl.com.test/franchise-opportunities to learn more about our franchise opportunities.